By: Jesse Stein, Managing Director, Everyrealm, Inc.
The Everyrealm Metaverse Index ("the Index") has been created to provide investors with a reference measure that enables them to track both event-driven news and long-term trends of the leading crypto-based metaverses. The Index includes the native currency tokens of the largest crypto-based metaverses.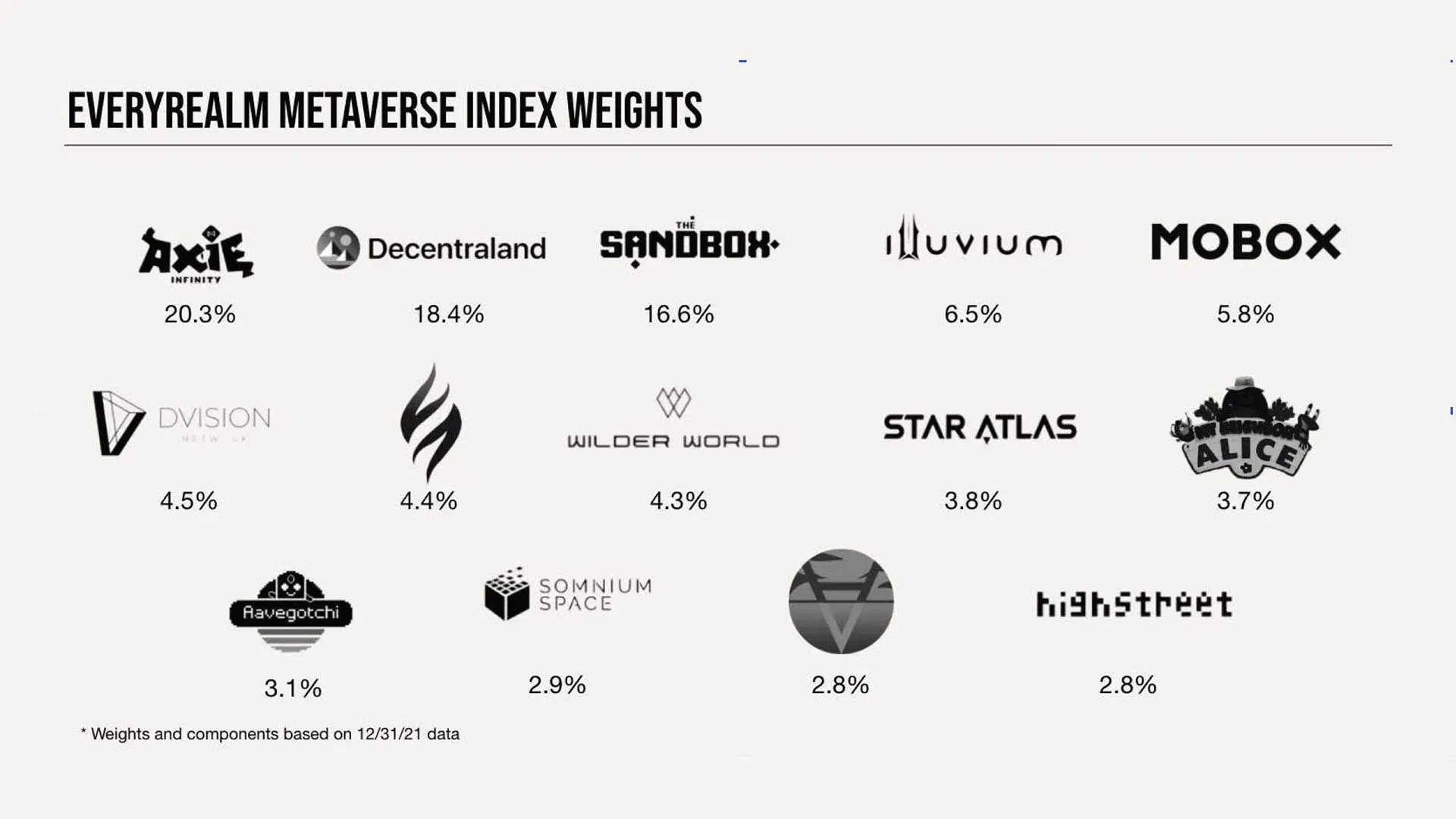 Q1 2022 Performance
Following a 1,400%+ increase in the second half of 2021, the Everyrealm Metaverse Index pulled back by 35.3% during the first quarter of 2022. This retraction occurred with each index component with Star Atlas leading the decline with a 69.5% decline over the course of the quarter. The (relatively) strongest component in the index was Aavegotchi, which was "only" down 10.7%.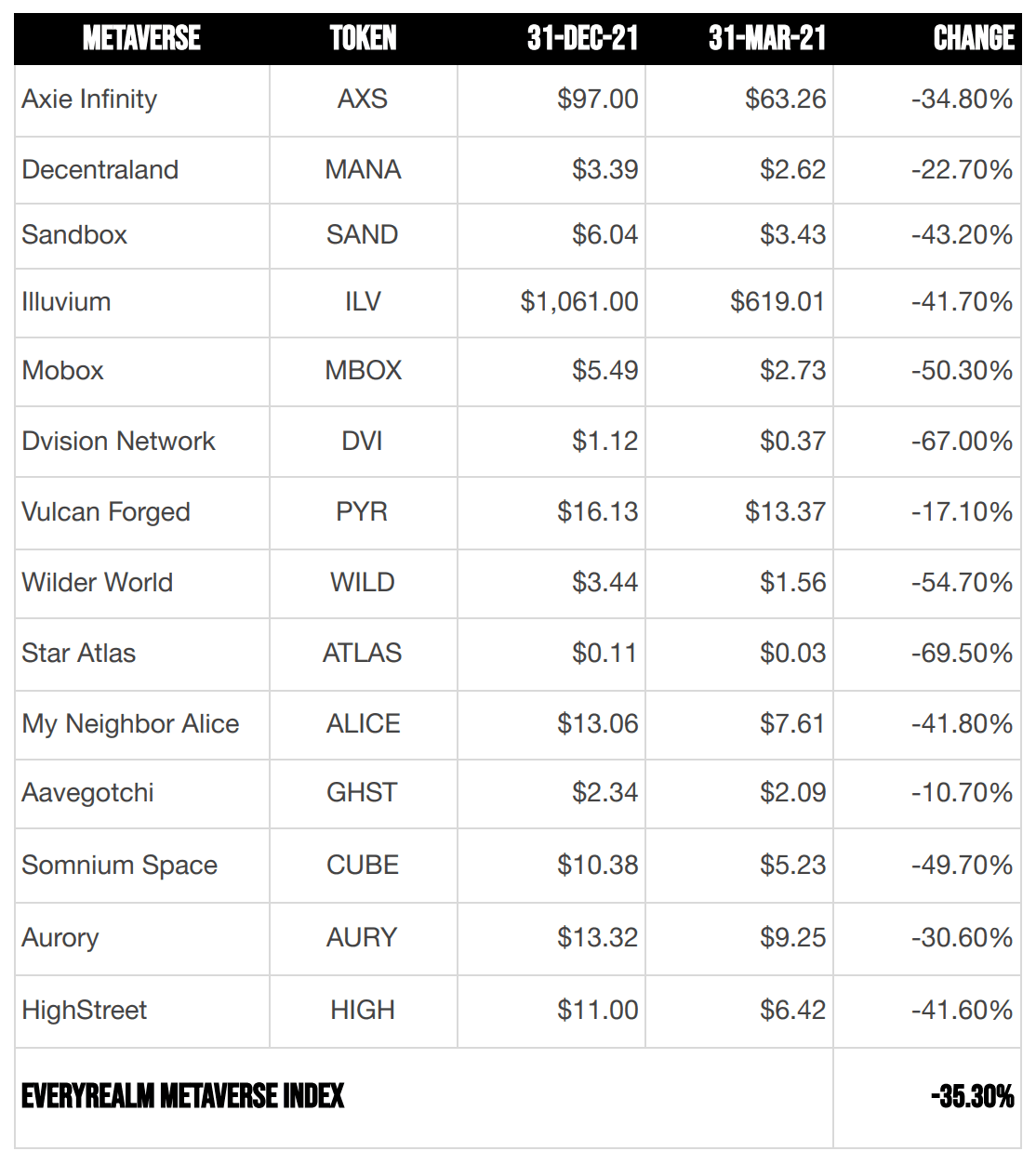 * Pricing data sourced from coinmarketcap.com
Index Methodology
Everyrealm selects the components of the Index based on market cap, trading volume, and trading history characteristics. Components are weighted using a modified market capitalization basis with monthly rebalancing. Components are updated quarterly.
Metaverse News
Here are some of the biggest news stories from Q1 for the Metaverses included in the Index:
Disclosure, Disclaimer and Other Important Information
Unless otherwise stated, all content set forth in this report is original and has been researched and produced by Everyrealm Inc. ("Everyrealm"). No part of this material or any research report may be (i) copied, photocopied or duplicated in any form by any means or (ii) redistributed without the prior written consent of Everyrealm.
Everyealm and its agents and employees, including the authors of this report, hold varying interests in the metaverse, including many of the digital assets and metaverse real estate projects described in this report.
This material is based upon current public information that we consider reliable, but we do not represent it as accurate or complete and it should not be relied upon as such. This material is strictly for illustrative, educational, or informational purposes and is subject to change. The information set forth in this report should not be relied upon as research, investment advice, or a recommendation regarding the purchase or sale of any security. Our employees may provide oral or written market commentary or strategies that reflect opinions that are contrary to the opinions expressed in this report.
The content herein is not an offer to sell or the solicitation of an offer to buy any security in any jurisdiction where such an offer or solicitation would be illegal. There is not enough information contained in this report to make an investment decision and any information contained herein should not be used as a basis for this purpose. This report does not constitute a personal recommendation or take into account the particular investment objectives, financial situations or needs of any individual potential investor. Everyrealm makes no warrantee as to suitability or fitness regarding the investment in any asset, including digital assets, any metaverse real estate project or the metaverse generally.

Investors are not to construe this content as legal, tax or investment advice, and should consult their own advisors concerning an investment in digital assets. The price and value of assets referred to in this report and the income from them may fluctuate. Past performance is not indicative of future performance of any assets referred to herein. Certain of the statements contained herein may be statements of future expectations and other forward-looking statements that are based on Everyrealm's views and assumptions and involve known and unknown risks and uncertainties that could cause actual results, performance or events to differ materially from those expressed or implied in such statements. In addition to statements that are forward-looking by reason of context, the words "may, will, should, could, can, expects, plans, intends, anticipates, believes, estimates, predicts, potential, projected, or continue" and similar expressions identify forward-looking statements. Everyrealm assumes no obligation to update any forward-looking statements contained herein and you should not place undue reliance on such statements, which speak only as of the date hereof. Although Everyrealm has taken reasonable care to ensure that the information contained in this report is accurate, no representation or warranty (including liability towards third parties), expressed or implied, is made by Everyrealm as to its accuracy, reliability or completeness. You should not make any investment decisions based on these estimates and forward-looking statements. Carefully consider all investment objectives, risk factors, fees and expenses before investing.

All feedback, comments and other communications relating to the content herein should be directed to: hello@everyrealm.com. By sending us any ideas, suggestions, documents or proposals ("Feedback"), you agree that (i) your Feedback does not contain the confidential or proprietary information of third-parties, (ii) we are under no obligation of confidentiality, express or implied, with respect to the Feedback, (iii) we may have something similar to the Feedback already under consideration or in development that is owned by us, and (iv) you grant us an irrevocable, non-exclusive, royalty-free, perpetual, worldwide license to use, modify, prepare derivative works, publish, distribute and sublicense the Feedback, and you irrevocably waive, and cause to be waived, against Everyrealm and its users any claims and assertions of any moral rights contained in such Feedback.