Experience the World's Largest CS:GO Championship in the Metaverse! We're hosting the 2022 CS:GO Championship at the MIBR Arena, all built in Portals. We designed the arena from the ground up in a beautiful setting inspired by Rio de Janeiro. Sign ups go live on November 8, 2022. Learn more how to access the event here.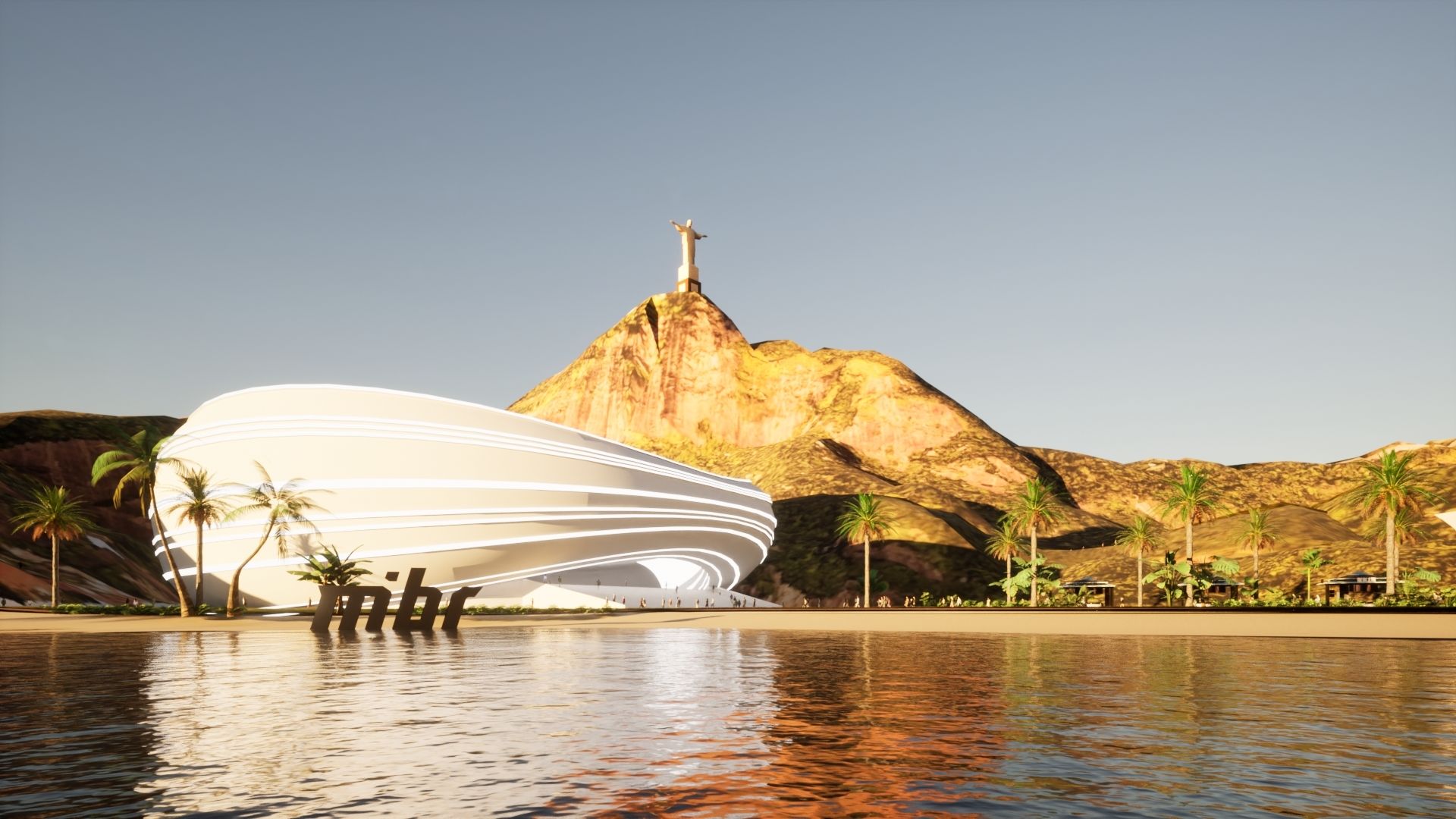 ---
The First Major Open Metaverse on Solana
Portals is the first major metaverse built on Solana in the "open builder" category, in which users can both build creations and explore the works of other users in an open world environment. In Portals' most recent roadmap release, the stated goal is to create a place to "build, showcase, host, explore, and just have a good time."
Inspired by pioneering metaverse platforms like Decentraland and The Sandbox, Portals' vision is focused on ease of use, whether that is exploring player-built spaces or building them. The platform's customization tools can be accessed directly from the browser, such as its native avatar design tool or drag and drop room builder.

A Multiplayer Metaverse
Portals is built to be a social world, with features like built-in voice chat and proximity audio to make social gatherings more lifelike. Space owners can entertain guests with streamed-in music, screen sharing, and connectivity to websites within the platform.

As a multiplayer game, every user is represented by an avatar. Upon signing into Portals, users are prompted to create their custom avatar using either the native Portals avatar builder or Ready Player Me plugin. All authentication can be done via a crypto wallet like MetaMask.
Access Cards
Portals began with a collection of Access Cards, minted in three varieties of increasing rarity: Ivory, Onyx, and Vision. These cards grant each owner a corresponding space with size varying by access card rarity.

Access Cards also provide holders with the opportunity to build in two new ways within Portals. Holders may create or add their creations to a "District" as well as create a "mini-world," which is an entirely custom scene or experience.

Access card rarity was distributed randomly, with Ivory having the greatest supply of 4500, followed by 425 Onyx cards and 75 Vision cards.

Citizen Cards
In addition to Access Cards, Citizen Cards allow a wider group of users to participate in Portals without owning a dedicated space in Building One. Standard and Genesis citizen card holders have early access to Portals Downtown as well as their own "Pod," a personal space available in two sizes away from Downtown.

Citizen card holders also have exclusive benefits like priority for certain events and other features yet to be announced, while Genesis cardholders will one day be able to trade their card for a Portals PFP.
You can view specific Portals NFTs on marketplaces like OpenSea and Magic Eden.

An example genesis pod layout
Who's around?
Since launching a Beta version this past December, Portals has attracted a number of well-known metaverse creators that have designed branded experiences for Portals users.
We're hosting the CS:GO Championship Live from the Metaverse starting on November 8, 2022. Experience the Rio 2022 Major in the MIBR Arena alongside scenic vistas of the Brazilian coastline. Learn more how to sign up and access the event here.

Audius announced its Audius Lounge development in Portals Downtown, which it plans to use as an event space. Portals access card holders can also place an Audius jukebox inside their spaces allowing them to stream Audius artists directly into their builds.

Everyrealm has launched its Everyrealm Arcade, a gaming hub where Everyrealm NFT holders can play and compete for exclusive awards and collectibles. Made entirely with the tools available to every Portals builder, the arcade features gaming modules to plug directly into Atari classics like Pong and Asteroids.

Portals, meanwhile, has developed a series of destinations inside Downtown, with spaces such as "The Gallery" that Portals says will be used as a collaborative space between Portals access card holders and their team to launch experiences and events.
Everyrealm Arcade where different gaming events take place
FTX.US and Binance.US, two crypto exchanges, are also launching their own spaces in Portals, beginning with event venues.

Metaverse activations within Portals have become a regular fixture of Solana NFT project roadmaps. Angomon, The Fracture, and Thugmonkez are among the projects that have made Portals their metaverse home by designing their own rooms on the platform.
Holders of Angomons will also be allowed to utilize a custom Angomon avatar on the platform. The Portals team says they expect to add a number of additional avatars from both Solana and Ethereum projects over time.

Thugmonkez Space in Building One

Angmon avatars inside a Portals space
Builder Overview
Portals distinguishes itself from current and upcoming metaverses because of the straightforward drag-and-drop building tools supplied to access card owners.

Portals owners have access to building toolkits made for three distinct areas:
Spaces in Building One (interior only)

Buildings in Districts (interior and exterior buildings)

Experiences in Mini-Worlds (custom experiences)
Spaces in Building One
The first and most recognizable build area in Portals are the Spaces inside "Building One," which Portals describes as the tallest building in Downtown. Here, owners can utilize a drag and drop builder within the browser without the use of any external software.

Players can place a variety of furniture and adornments, including couches, lamps, and image frames that can display either Solana or Ethereum NFTs.
Using "Building Blocks," owners will be able to create more complex creations by editing the dimensions of different building elements. Portals says potential creations vary from walls and stages to a full obstacle course.

An example room with furniture provided by platform
Districts
Districts constitute the "open" and explorable world of Portals where access card owners can realize more ambitious visions, including designing the exterior of the buildings that make up their own district. Owners can design their interior spaces using the same builder used in Building One, while leveraging the modular building tool to make exteriors.
Each access card holder can form a district, while Vision NFT holders can form the largest footprint.
Modular pieces used to make full buildings
Mini-Worlds
In addition to the design tools provided by Portals in Downtown and Building One, creators can build fully immersive spaces using third party design resources inside of "mini-worlds." Although the publicly available details on the distribution and size of mini-worlds are still limited, it is expected that card holders will be the future owners of these unique spaces.

With the introduction of mini-worlds, the design and development abilities of users will expand beyond the limitations of drag and drop building, bringing even more ambitious game and event ideas to the platform.
The first Mini-World, WAGMI (We are Going to Make It) beach
Team and Funding Overview
Portals is led by CEO Adam Gomez who previously worked on digital experiences for groups like Microsoft, Oculus, and Marvel as the founder of Savage Digital.

In February 2022, Portals announced a $5 million funding round from venture capital firms including Greylock, Multicoin Capital, Solana Ventures, Foundation Capital, Alameda Research, Sino Global Capital, among others. Sarah Guo, a Greylock partner, noted the firm sees Portals as "the most promising browser-based metaverse platform" and admires the team's "velocity, quality, and vision."

Solana Metaverse and Game Landscape
Portals is one of several metaverse experiences launching on Solana, which has attracted projects seeking a high transaction throughput and low fees. Solana is the blockchain of choice for several popular and highly anticipated metaverse projects including:
Star Atlas is a space exploration grand strategy game that propels players into territorial and political conquest. With an ATLAS (in-game currency) investment, players can purchase the infrastructure and crew capacity to mine resources tokenized as NFTs. Faction selection and player leaderboards are live, while more features are scheduled for release this year.
Angelic is a Multiplayer Strategy RPG set in a Sci-Fi Universe that combines elements of turn-based strategy combat and narrative RPGs. Players assume the persona of a Phoenix, a neo-human prototype, and can begin playing the full game by Q3 of 2023.
Aurory is a turn-based RPG in which players collect and battle with their "Nefties." Across the worlds of Antik and Tokané, players can complete quests and discover lost relics. Each Nefty has a set of actions and passive abilities that contribute to its battle readiness. Aurory is currently released.
Decimated is a post-apocalyptic survival game that pins player against player in a cyberpunk world teeming with loot and resources, both legal and illicit. Players may find themselves hunting legendary creatures, transporting cargo, capturing territory, or building safehouses to stake out with their team. Decimated's release date is TBC.
---
DISCLOSURE, DISCLAIMER AND OTHER IMPORTANT INFORMATION
Unless otherwise stated, all content set forth in this report is original and has been researched and produced by Everyrealm Inc. ("Everyrealm"). No part of this material or any research report may be (i) copied, photocopied or duplicated in any form by any means or (ii) redistributed without the prior written consent of Everyrealm. Everyealm and its agents and employees, including the authors of this report, hold varying interests in the metaverse, including many of the digital assets and metaverse real estate projects described in this report. This material is based upon current public information that we consider reliable, but we do not represent it as accurate or complete and it should not be relied upon as such. This material is strictly for illustrative, educational, or informational purposes and is subject to change. The information set forth in this report should not be relied upon as research, investment advice, or a recommendation regarding the purchase or sale of any security. Our employees may provide oral or written market commentary or strategies that reflect opinions that are contrary to the opinions expressed in this report. The content herein is not an offer to sell or the solicitation of an offer to buy any security in any jurisdiction where such an offer or solicitation would be illegal. There is not enough information contained in this report to make an investment decision and any information contained herein should not be used as a basis for this purpose. This report does not constitute a personal recommendation or take into account the particular investment objectives, financial situations or needs of any individual potential investor. Everyrealm makes no warrantee as to suitability or fitness regarding the investment in any asset, including digital assets, any metaverse real estate project or the metaverse generally. Investors are not to construe this content as legal, tax or investment advice, and should consult their own advisors concerning an investment in digital assets. The price and value of assets referred to in this report and the income from them may fluctuate. Past performance is not indicative of future performance of any assets referred to herein. Certain of the statements contained herein may be statements of future expectations and other forward-looking statements that are based on Everyrealm's views and assumptions and involve known and unknown risks and uncertainties that could cause actual results, performance or events to differ materially from those expressed or implied in such statements. In addition to statements that are forward-looking by reason of context, the words "may, will, should, could, can, expects, plans, intends, anticipates, believes, estimates, predicts, potential, projected, or continue" and similar expressions identify forward-looking statements. Everyrealm assumes no obligation to update any forward-looking statements contained herein and you should not place undue reliance on such statements, which speak only as of the date hereof. Although Everyrealm has taken reasonable care to ensure that the information contained in this report is accurate, no representation or warranty (including liability towards third parties), expressed or implied, is made by Everyrealm as to its accuracy, reliability or completeness. You should not make any investment decisions based on these estimates and forward-looking statements. Carefully consider all investment objectives, risk factors, fees and expenses before investing. All feedback, comments and other communications relating to the content herein should be directed to: hello@everyrealm.com. By sending us any ideas, suggestions, documents or proposals ("Feedback"), you agree that (i) your Feedback does not contain the confidential or proprietary information of third-parties, (ii) we are under no obligation of confidentiality, express or implied, with respect to the Feedback, (iii) we may have something similar to the Feedback already under consideration or in development that is owned by us, and (iv) you grant us an irrevocable, non-exclusive, royalty-free, perpetual, worldwide license to use, modify, prepare derivative works, publish, distribute and sublicense the Feedback, and you irrevocably waive, and cause to be waived, against Everyrealm and its users any claims and assertions of any moral rights contained in such Feedback.