Contents
If you're into NFTs, you've probably heard of the Bored Ape Yacht Club, also known as the BAYC. First launched in April of 2021, the BAYC has quickly become one of the most well-known and highly-valued NFT projects of all time.

These NFTs have been bought and sold by big celebrities and are now see floor prices well into the six figures.
In March of 2022, BAYC creators Yuga Labs announced that they would be building their own metaverse called Otherside with a teaser trailer that sparked a wild frenzy within the community.
The Otherside Metaverse is a 3D virtual world based on the BAYC project. It is an MMORPG (Massively Multiplayer Online Role-Playing Game) where, according to the project team, up to 10,000 players can simultaneously interact and voice chat with each other.

The metaverse experience will expand the utility of the BAYC NFTs even further and allow players to bring all kinds of third-party NFTs into the game. As with other metaverse projects, players can explore an open world, go on quests, own land, and harvest resources.

There are four kinds of resources that players can extract and use within the virtual world: Anima, Ore, Shard, and Root. Artifacts are another essential element of The Otherside gameplay experience and are rare collectible in-game assets.
Many other components make up The Otherside, including The Agora, a marketplace for purchasing raw materials, an arcade machine, and The Codex. The Codex is a document that describes the metaverse but evolves and continues to be written by the players as they experience The Otherside.

To gain access to The Otherside, you'll need to purchase land in the form of Otherdeeds. Their website occasionally offers mints, which users can access via connecting a wallet like MetaMask.
There are 200,000 parcels of land within The Otherside metaverse. Each parcel is represented by its Otherdeeds token - tradeable on OpenSea - and each piece of land has one or more of the four resource types we listed above.

The secondary characteristic of each Otherdeed NFT is the sediment type on which the land is built. There are five tiers of sediment: Biogenic Swamp, Chemical Goo, Rainbow Atmos, Cosmic Dream, and Infinite Expanse.
Otherdeeds may also have artifacts and a scarce creature known as a Koda. The combination of these various characteristics determines the rarity and value of each Otherdeed NFT.
Owning these NFTs gives you access to participation in various Otherside Metaverse experiences, including special in-person events, prototype demos, and more. At this point, Otherdeeds is now one of the most popular collectible NFT projects and has rapidly entered the top 10 most sold NFT collections.
Recently, an Otherdeed virtual land plot sold for $1.5 million. However, the launch of the Otherdeeds NFT collection was not as smooth as its enormous success might suggest.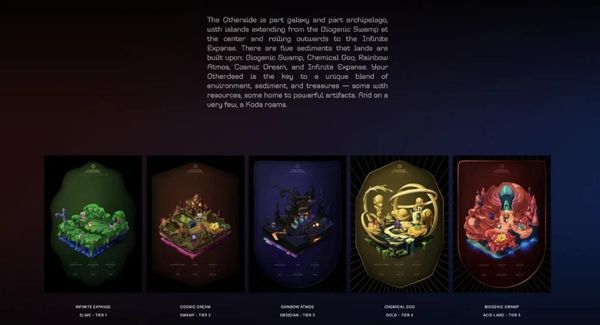 On Saturday, July 16, nearly 4500 Bored Ape and Mutant Ape owners participated in Otherside's First Trip, a demo of the platform featuring a tour of some major areas and boss fight.

First spawning onto a large white expanse, the floor gave through to a mutli-colored portal that transported the voyagers to Otherside, a world made of a series of floating islands covered in lush green grass and dotted with small settlements of wooden buildings.

Accompanied by "Curtis," the official guide of the tour appearing as an oversized Bored Ape, and "Blue," a large Koda, voyagers saw key points of interest in the new metaverse. Beginning at "The Swamp," the group traveled to "The Sphere," an outdoor auditorium, and lastly an island of jagged geometric shapes known as "The Obelisk." There, the First Trip culminated in a boss fight that pinned the entirety of the group against an evil Koda. The Koda creature was teased by Otherwise in its original land sale and was a central piece of First Trip.

Developed by Improbable.io, the impressive feat of hosting thousands of players simultaneously in one space is made possible by its unique Morpheus technology. Testimony from participants widely suggests the experience was seamless and lag-free. First Trip's success has fueled a high degree of anticipation for Otherside's full release.
The initial NFT drop didn't exactly go smoothly. Before the release, a sizeable portion of the 200,000 parcels of metaverse land was reserved for current members of the BAYC community.
55,000 parcels were released for sale on April 30, 2022, and sold for a total mint value of over $300 million. This was significantly more than the value at launch of the two other most well-known metaverse platforms: Decentraland and The Sandbox.
Yuga Labs announced they would not rely on a dutch auction to release the Otherdeeds NFT collection. A dutch auction is a particular way of releasing an NFT designed to avoid massive fees caused by high network traffic on the native blockchain. In the past, this high traffic would overwhelm the network, leading to a "gas war" where fees would be driven to astronomical levels and lead to other problems. Nonetheless, dutch auctions have been criticized by the NFT community for being ineffective methods of avoiding network overload.
This critique led Yuga Labs to change course and release their NFTs in limited waves, which they hoped would reduce the burden on the Ethereum network. Unfortunately, the plan failed as thousands of people stormed the platform to get their hands on this collection. The network was overwhelmed nonetheless, leading to unbelievably high transaction costs. These prices triggered several transactions to fail as specific consumers couldn't afford to pay the fees.

These individuals lost thousands of dollars, leaving only NFT investors with large amounts of capital capable of participating. When the dust settled, Yuga Labs apologized for the incident and stated that the way to solve the issue in the future is to move the entire ecosystem to a new blockchain network.

The success of the BAYC project was indeed a watershed moment in the history of NFTs and Web 3.0. Before the BAYC, most NFTs were one-hit wonders created by artists who wanted to capitalize on a particular moment of NFT excitement.
Yuga Labs took a completely different approach and worked hard to develop a solid and loyal community around their NFTs, resulting in long-term sustainability and massive growth for their project. Although the start was a little rocky, they soon built traction, and BAYC NFTs were soon being purchased by the likes of Jimmy Fallon, Tom Brady, Madonna, Justin Bieber, and Post Malone.

The Bored Ape Yacht Club is a collection of 10,000 ape-themed profile picture NFTs, each with a unique combination of traits. What made these NFTs so much more successful than their predecessors was the fact that the project's four anonymous creators chose to attach utility to the NFT.
Instead of just getting a unique piece of art, those who purchase a Bored Ape also get access to an exclusive online community or club that provides various unique benefits and features, including commercial usage rights to the NFTs. This permits members to sell their own creations based on their NFTs.
Like every good community, the BAYC project has its own lore that helps create a further sense of shared identity. The basic story is that the bored apes are a group of people from the future who have become wealthy by getting into crypto early and have now formed an exclusive club to hang out with.
The Bored Ape Yacht Club is only one of several NFT projects founded by Yuga Labs. Others include the Mutant Ape Yacht Club (MAYC) and the Bored Ape Kennel Club (BAKC). Additionally, Yuga Labs has acquired some of the biggest names in the NFT space, including CryptoPunks.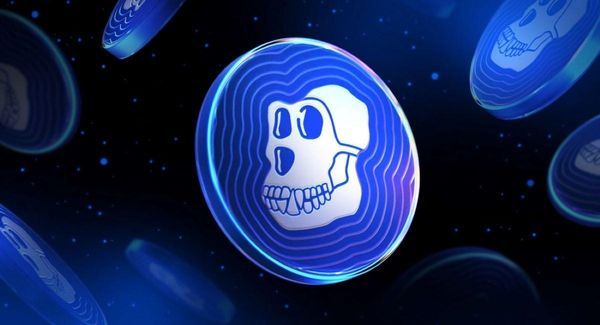 ApeCoin is the native token of the Bored Ape Yacht Club. It is an ERC-20 standard token, which functions more like a fungible currency instead of a collection of unique tokens.

Holders of the BAYC NFTs received 10,094 ApeCoins for each of the collection NFTs they held. The token is managed by the ApeCoin DAO (decentralized autonomous organization) where it also functions as a governance token. This means those who hold the token are given voting rights to help decide important governance decisions and guide the project's future. The ApeCoin Foundation then implements the decisions the community of ApeCoin holders makes.

On top of being a governance token, ApeCoin can also be used to make purchases since it's based on the Ethereum blockchain network. Some third-party projects and games have already incorporated the token into their games as an incentive.Furthermore, the token will be integrated into the upcoming metaverse Otherside, where it will become a metaverse currency allowing owners to buy and sell on metaverse marketplaces.
Get the Latest Metaverse News Delivered to Your Inbox
Sign up for our newsletter Everyrealm Edition covering all things metaverse, web3 gaming, and NFTs.