Contents:
---
Brand interest in the metaverse and NFTs is at an all time high and for good reason; McKinsey predicts that the metaverse will be a $5 trillion opportunity by 2030.

While it can be tempting to rush into the metaverse given the hype, it is in your brand's best interest to ensure you are up to speed on the risks posed by this nascent industry. In this article, we will break down some of the key considerations for companies looking to enter the metaverse and the world of web3.
We'll jump right into it, but if you need a refresher on what the metaverse entails and how this ecosystem works in relation to brand activations, we included a brief description at the bottom of this article.

---
We will condense the major risk factors into three categories:

Open System Content Creation
Introduction of New Product Type
Audience Demographics
Decentralized metaverse platforms operate as an open ecosystem, allowing creators to contribute to their platforms freely. If you or your brand invest in a metaverse parcel, you have no control over who buys your neighboring parcels.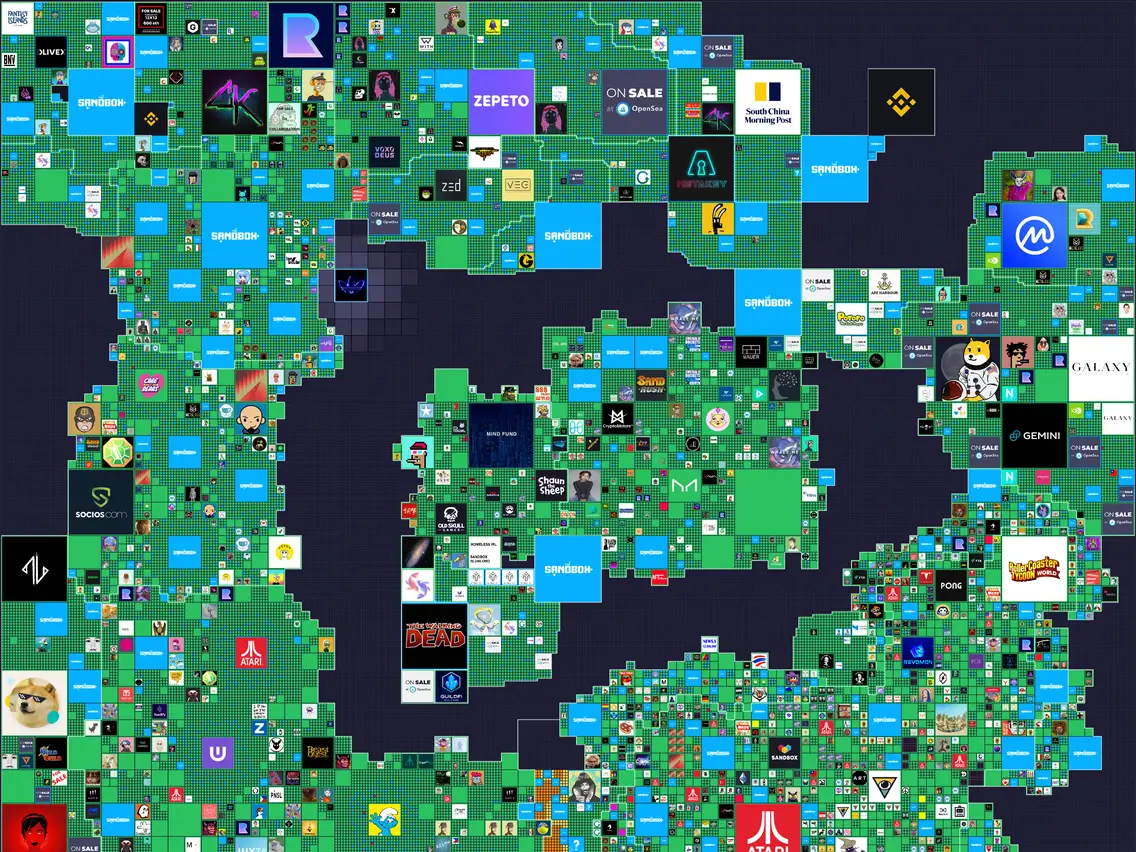 Map of land in The Sandbox
Many well known metaverses like the Sandbox and Decentraland operate with this structure. Similar to crypto currency, anyone with a crypto wallet and enough currency can own land.
In many ways, metaverse development is still in a Wild West phase – tremendous opportunities, but with many risks yet to be discovered.
For now, our recommendation to reduce this risk is to partner with virtual real estate investors and developers that have boots on the ground experience. We can guide your brand's decision on which metaverse and parcels to invest and/or activate in.

Some metaverse investors (including Everyrealm) own large parcels of land in different metaverse platforms; therefore a brand can choose to lease first and be ensured that the metaverse activations on neighboring parcels are unlikely to threaten your brand identity as opposed to leaving your location up to fate.
Additionally, by working with a partner with land in different platforms, you can nimbly pivot your metaverse strategy from one platform to another. Optimize by audience, features, and other content creators on the metaverse platform of your choice.

While many brands have developed their marketing strategies and messaging around their product, web3 introduces an entirely new asset class for the digital world. Metaverse activations include digital assets such as wearables, real estate features, avatars, games, and interactive experiences that complement consumer engagement.
In fact, many metaverse activations are incomplete without multiple digital assets to construct digital identity and keep consumers engaged.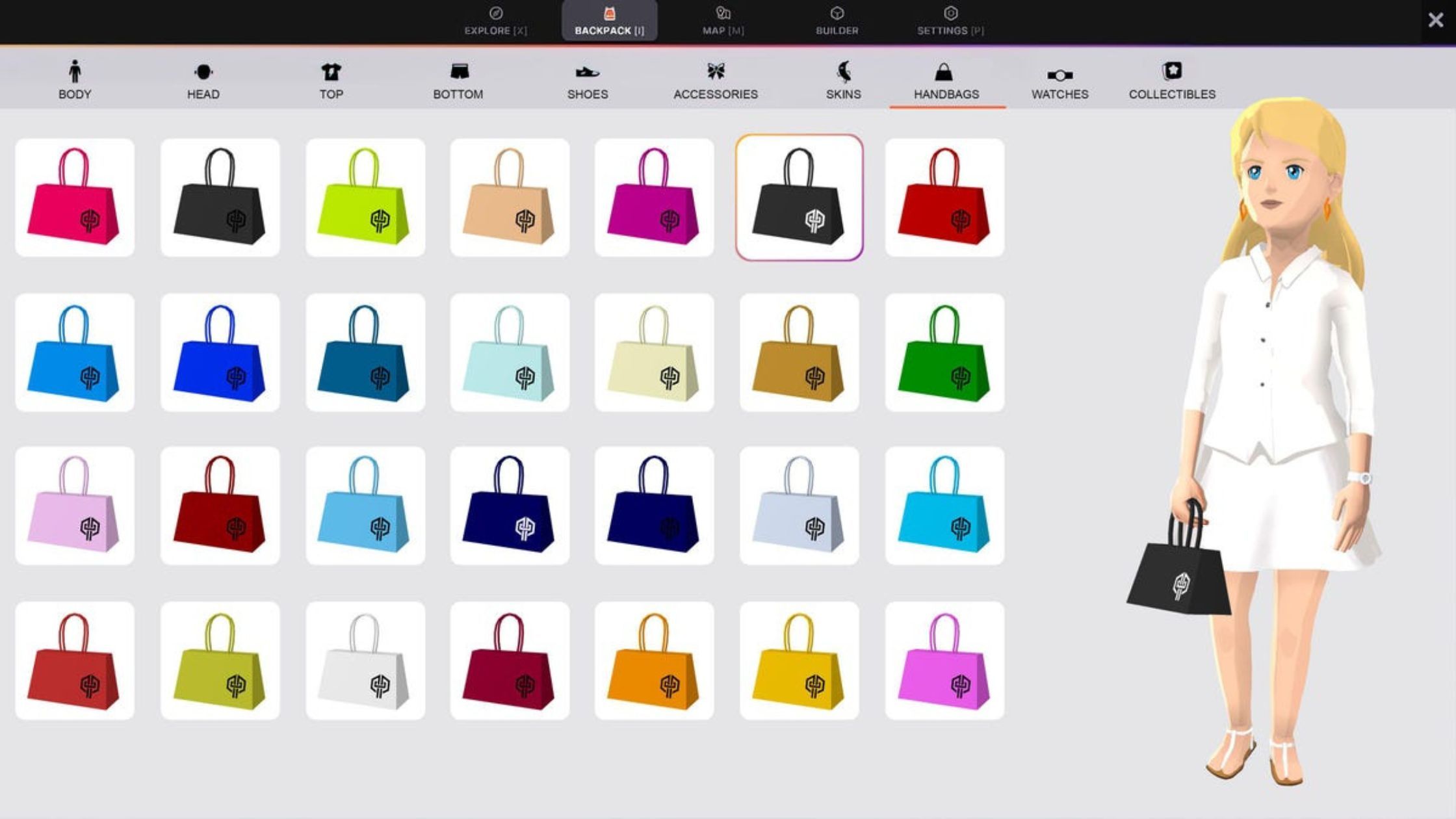 In Decentraland, users can accessorize their avatars with nearly limitless possibilities.
Digital experiences and assets, while they represent and look similar to many real world concepts, do not translate directly to their IRL counterparts. Therefore, the way consumers value these products and services differs greatly from many brands' current business model.
Digital vs. physical value
For example, a digital dress for Forever 21 on Roblox may sell for $50 in real life while being only 50 cents on the platform's marketplace. Similarly for luxury brands, while some digital NFT dresses have sold for thousands of dollars, many consumers value their avatar's clothing less than their own - especially while metaverse platforms are still developing.
Having created many web3 native communities across different metaverse platforms, we truly understand how digital assets gain value and remain valuable – community. Web3 value is derived from community-oriented content that users can interact with and co-create with the brand.
Many brands fear brand dilution or resist sacrificing control over brand development in the space. Too much control in the era of communal creation threatens the success of a brand's metaverse strategy.
Embracing web3 in an effective, all-encompassing manner - meeting creators where they are - ensures consumers love and invest in your brand's future.
Open system metaverse platforms allow any users to enter the platform - some of which collect crypto wallet information while others do not. In any sense, collecting demographic data on metaverse users is typically sparse and relatively low - for now.
Web3 proponents applaud data democratization - allowing individuals to monetize their own data as opposed to large cloud providers like Amazon or Google. Therefore, while an obstacle for some companies, the lack of detailed data is by design.

Since the decentralized metaverse market consists of early adopters right now, audience demographics skew young and male - not the target demographic or an appealing number of users for many brands. On the contrary, popularly closed system platforms like Roblox have tens of millions of daily active users mainly ranging from 9 years to 12 years of age.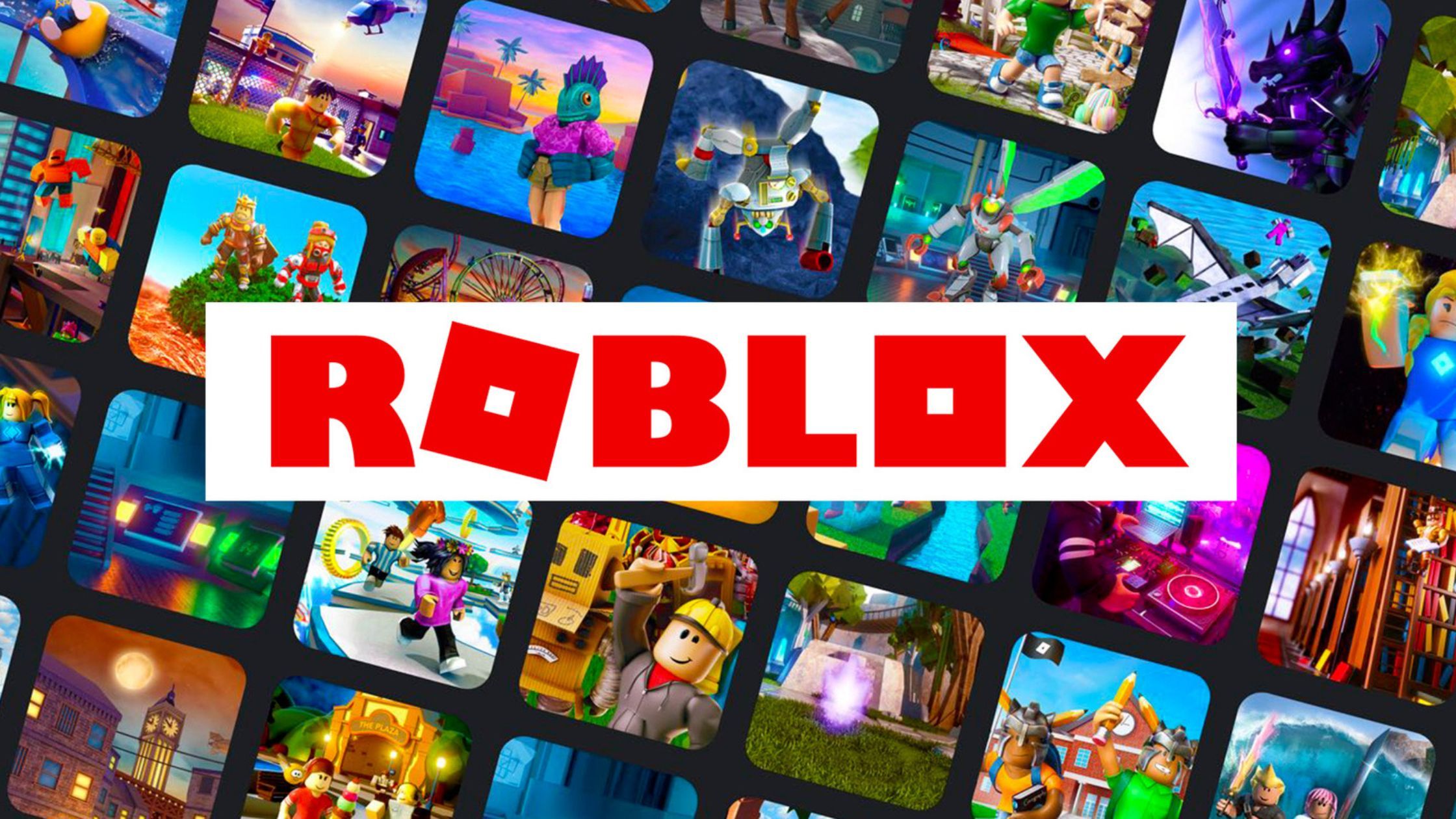 Roblox is a major cultural touchpoint for younger generations
Metaverse platforms have not reached experienced mass adoption - yet.
Although the audience opportunity seems low and highly specific to some brands, the metaverse' current audience is only getting started. We suggest testing out different metaverse experiences prior to making a large, long-term investment.
Working out the specifics of metaverse experiences with your team and experienced partners, like Everyrealm, can help you prepare for when open system metaverses boast of similar daily active users to other closed gaming platforms.
Summary
Brand safety considerations are valid and should always be factored into a brand's metaverse strategy. However, they diminish when compared to the immense opportunities found in the future of web3.
The metaverse's unique approach to consumer engagement has already led to so many recognizable brands to enter the space.

If you would like to learn more about the metaverse and how to navigate this nascent space in an effective way, Everyrealm would love to speak to you about our partnership opportunities. Please email partnerships@everyrealm.com to connect to our team.
---
Terminology:
Brand safety relates to preserving a brand's narrative and reputation when confronted with damaging, negative, or inappropriate content online. This includes things like ads placed next to taboo content and imposter brand accounts on social media.
Centralized platforms like Facebook, Google, and Amazon may either algorithmically or manually prevent these problems from happening before the ads are published. Additionally, they have customer support channels for issues to be highlighted.
Despite this, risks remain and some companies have chosen to withdraw advertising from these platforms altogether.
"Metaverse" is a neologism that means different things to different people. It usually refers to virtual worlds with strong social and gaming components, but isn't one size fits all.
The metaverse is also much more than just web3 and NFTs. While decentralized metaverse platforms built using NFTs for currency and land parcels - one example being The Sandbox - are pioneering the development and use of decentralized virtual worlds, plenty of traditional gaming and social media companies have launched worlds we consider metaverses.
See: Roblox and Fortnite.
Not sure where to begin? We put together a guide of top metaverses to read up on if you are looking for a starting point.
With a completely decentralized metaverse platform, there is no single entity that governs what actions are permissible or not. Some platforms, like Decentraland are run by decentralized autonomous organizations or DAOs, which act as decision making bodies made up of users that democratically govern the technology.

It is typically a free-for-all in terms of the who, what, and where of content publishing on these platforms. Most decentralized metaverses either sell or lease parcels of land (as NFTs) for creators and/or companies to develop based on their needs.

These land parcels can then be traded on secondary markets like Opensea. Again, in a decentralized metaverse platform, a brand can't guarantee who its metaverse parcel 'neighbors' will be.